Siena - The Palio di Siena - Information for holidays in Siena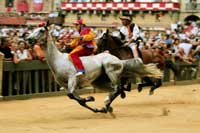 If you decide to organize your holiday in Siena in the period from July 29 to August 16, we strongly recommend not to miss the most famous medieval festival Italy: Palio di Siena, a centuries-old tradition that each year attracts thousands of tourists from all over the world.
Recommend the tourist to travel to Siena in the early hours of the morning, to totally immerse yourself in a chivalrous and popular, that animates the Sienese Tensin while waiting for the big time. Each lane of each neighborhood comes alive with banquets, parades and demonstrations.
To learn more about the Palio di Siena, should visit the site dedicated to your holiday in Siena: siena.guidatoscana.it
For reservations in hotels, Bed and Breakfast, lodging and vacation lastminute recommend:
Useful tips for your holiday in Siena