Welcome to Prato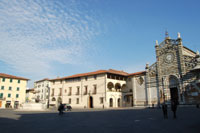 Prato is in the heart of Tuscany, the ideal center for reaching the other famous art cities of the region. But it is also a city of art and prestige, and offers various artistic itineraries .
The works of the great masters such as Agnolo Gaddi , Paolo Uccello , Filippo and Filippino Lippi , Donatello and other famous artists of the fourteenth century and the Renaissance are preserved in the Emperor's Castle, in the Cathedral, in the Palazzo Pretorio, in the Basilica of Santa Maria delle Carceri and in the churches of San Francesco and San Domenico .
The Piazza del Duomo, where the Cathedral Basilica of Santo Stefano stands, is a splendid example of Romanesque - Gothic Prato architecture. Donatello's Pulpit emerges from its facade.
Useful links for Prato
Holidays in Prato
- History, art culture, hotels, bed and breakfast, museums, exhibitions, festivals, popular festivals etc.