Welcome to holiday in Pistoia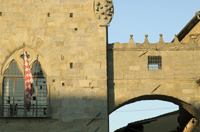 In the heart of Tuscany Pistoia province keeps the essence of the perfect balance between its history, the beauty of the landscapes and taste of "live well". A corner where to find the harmony of art, the richness of its territory, the frankness of the people and relax the precious life-giving water.
The special city of Collodi, near Pistoia, is famous worldwide for his given birth to the most famous puppet of all time: Pinocchio. In the town of Collodi is the Parco di Pinocchio , Where you can admire works of art of great fantasy inspired by the adventures of Pinocchio and master geppetto. Ideal for a holiday in Pistoia and environs in the company of the whole family.
Slow and silent Pistoia is a city that surprises with its discreet charm enclosed in alleys and squares decorated with historical monuments and palaces, testimony of an ancient artistic past but also an expression of more recent and innovative.
Useful links for your holidays in Pistoia
Holidays in Pistoia -
Art, culture, hotels, bed and breakfast, museums, exhibitions, fairs, festivals, concerts.
Pistoia, Montecatini Terme, winter sports