Visiting Siena - Piazza del Campo, the Cathedral, the Torre del Mangia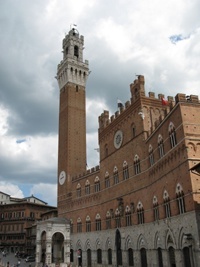 Piazza del Campo , Oldest in the city, is a large open space known for its shape and shell for the race of the Palio di Siena that every year draws thousands in the square of citizens and tourists ready to enjoy a unique event of its kind that arouses strong emotions for the people of Siena, being a strongly rooted tradition: an experience to be done at least once in their lifetime.
To do surrounding the square are the buildings that make up some of the most senior Italian examples of medieval architecture and gothic as the Palace Civic and the Torre del Mangia.
Going long a staircase fifteenth reach the religious heart of the city, Piazza del Duomo, where you can admire the magnificent Cathedral of Siena . Stupendous construction that deserve a visit if only to admire the floor, as unique, completely decorated with marble inlays color and graffiti.
Along the Via century Bandini is penetrates into the past Siena. This path leads to the heart of the medieval city that still bears signs of the times with its ancient walls of defence and the numerous important buildings.
While the elegant face of Siena is discovered benches along Via di Sopra, animated by shops, cafes and historical espresso.
The experience of a walk among the narrow streets dotted with towers is made even more enjoyable by the absence of traffic in the city centre, which offers a Siena a quality of life absolutely enviable.
Other factors contribute to a high quality of life in this city, and are good quality of wine and food and climate.
Useful links for your holidays in Siena