Welcome to vacation in Pisa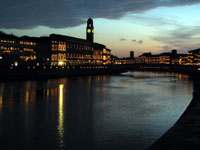 The city of Pisa along the Arno river 10 km from the mouth of river. Located astride the three provinces (
Lucca
,
Livorno
,
Versilia
), Pisa offers visitors the opportunity to enrich their stay not only the sights but also a variety of landscapes ranging from Mediterranean to the barren countryside of the hinterland.
In the days of mistral wind is easy to feel a slight breeze in the air that smells of the sea, moving up the river reaches Pisa. Yes because the sea is only a few km. Along the Viale D'Annunzio flanking the left bank of the Arno, is within the following tourist places of the Province of Pisa:
Pisa, Tuscany art cities in the past was the first Etruscan and then Roman colony. Located on the banks of the Arno river which divides it in half and is about 12 kilometers from the Sea (Tyrrhenian Sea). Pisa is one of the most attractive for Italian tourism thanks to its
artistic and monumental heritage
, especially its magnificent
Leaning Tower.
In the Middle Ages Pisa was an important and prestigious Maritime Republic, Pisa since the past has always been an important cultural center thanks to its well-known and prestigious
universities
and Normal School, known throughout Italy.
Events typical of Pisa do not miss the Luminara di San Ranieri , Patron of the city on June 16 each year for this date Pisa "turn off the light" and all the riversides are illuminated by lights attached to buildings supported by appropriate support. Event and very suggestive of priceless beauty.
Another typical event, a pageant of antiquity as the first news of this event will have in 1400, is held annually on the last Sunday of June and and games of bridge. This game is divided into two separate moments: the historical parade with costume parade and Battle on the Ponte di Mezzo, where fighters Tramontana and South (distinction drawn by the fact that the course of the Arno river divides the city in half), divided for neighborhoods, challenge on a cart placed at the exact center of the bridge.

The Lungarni Pisani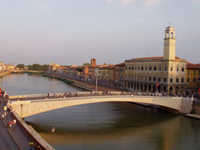 Open roads that meet most of the oldest buildings and mansions of the city of Pisa and the Arno river, which consists, in the highest part of the banks' Arno, walls of brick and stone, known as the "shoulders", part Pisa and nightlife venue for many young people.
The high area occupied by the Arno as the historical center of Pisa so aristocratic and distinguished, especially when the sunset, the lights arranged along the parapet, are reflected with pride, beauty in the river, creating a magical atmosphere of romance and tranquility desired. The magic of these pathways coils has captivated many Italian and European writers, from the nineteenth century, have always been praised in their writings the beautiful scenery that Lungarni give grateful to those who arouses their interest.
Useful links for your holidays in Pisa
Holidays in Pisa
- History, art, culture, hotels, bed and breakfasts, museums, exhibitions, festivals etc..
Pisa and the Leaning Tower