Thermae and relax in Pistoia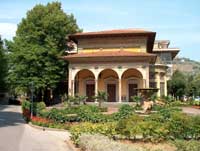 The territory pistoiese gives us another SFIZIO: the time to devote to physical and spiritual care of themselves. And what better place to regenerate in the body and mind of Terme, especially when it comes to a center whose effectiveness is known everywhere as Montecatini Terme.
The province Pistoia is a place of regeneration, health and beauty and has these extraordinary gifts to the pure waters that flow from deep subsoil.
Throughout history many entertainers, star of movies, music celebrities have chosen the earth energy pistoiese to recover, relax and health care thanks to hydropinic massage, mud and saunas. The spas offer a variety of custom programs to secure an exclusive holiday, as signs of prosperity in places only as Montecatini Terme and fantastic caves Idaville .
Any path chosen will be the occasion for Goderie the atmosphere somewhat 'out of time in these places.
Pistoia, Montecatini Terme, winter sports