Shopping in Florence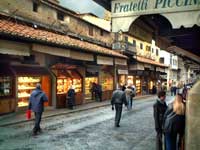 Florence is certainly not a city for shopping cheap.
Many visitors are interested in jewelry in gold or silver sold on the Ponte Vecchio in its tiny shops.
For those interested in fascination or a souvenir stores these is appropriate, but it is hoped to find an opportunity, maybe a jewel of gold at low cost.
The road to the antiques is Via Maggio: some of the furniture and objects d'art are here in the sixteenth century. For more information see the Shopping streets of Florence.
The best boutique clothing and shoes of the big names are in the fifth street of Florence, Via dei Tornabuoni, the place for the leather goods of better quality.
In addition to the shops of Florence is full markets. The Market of San Lorenzo, located in the city center, is the favorite destination of tourists and young visitors. New Market, where you can buy leather goods and souvenirs, are dwelling in the Loggia del Porcellino the sixteenth century.
Al The Flea Market, near Piazza Santa Croce, you can do big business for small objects' antiques. The last Sunday of each month, except July, the market is expanding into adjacent streets.