Eating in Siena, dishes, recipes, restaurants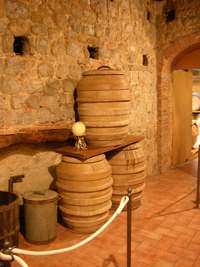 Siena is the cradle of good drinking and eating. The "places of taste" in Siena are represented by those shops where you can see birth and buying tastes of the city.
After a long day spent in search of the wonders of the place, the thoughts immediately to another reason for intense pleasure to Tuscany. It 'very difficult to remain disappointed by the Tuscan cuisine: fresh ingredients and recipes simple, are always guaranteed a good meal.
The Sienese cuisine stems from the character and habits of people, sober and essential bride intense flavors and delicate and recalls harmony and color of its landscapes.
Simple and essential, tasty and substance, the recipes of Sienese tradition are distinguished for 'excellence of the ingredients used: meat, vegetables and aromas of high quality enriched in taste and nutrition by the provision seasoning with extra virgin olive oil, which in this region is among the as best quality, use of herbs, tarragon to nepitella, and for the care with which the dishes are cooked.
After undergoing the influence of the Etruscans and Romans in the Middle Ages was enriched with precious spices that have found their sublimation in panforte and ricciarelli, sweet Sienese for excellence.
The sweet deserve special consideration in the Sienese cuisine, the gingerbread, and horses have ricciarelli brought the flavors of Tuscan tradition on the tables of Italians especially in the Christmas period.
Do not forget to accompany these dishes with excellent good Tuscan wine.
From these parts there is a saying: "a lunch without wine and as a day without sun." And obviously the first wine list is the Chianti. Created by Bettino Ricasoli (1808-1890), Chianti was one of the first Italian wines to be appreciated in America; Italian emigrants exported this wine in the old flasks, which today are so famous and symbolize the Chianti worldwide. Even today, this wine is the better product.
Links to eat well at Siena