Visiting Livorno
From a boat trip along the old perimeter pentagonal, you can admire the picturesque views overlooking the canals along the Medici family and discover a 'strange and fascinating view of the city with its many bridges, palaces, churches and wineries that are open on channels, evidence of a 'business culture and ancient port.
The area that best represents this aspect of the most folk of Livorno is undoubtedly the Venetian quarter in the heart of the town. Its historic mansions, fortresses and ancient Medici channels make this an original seventeenth-century neighborhood that houses the most typical scenario for a local dinner accompanied by music.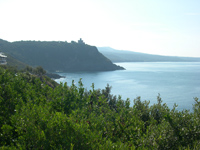 The life of Livorno is inextricably linked to sea with its beautiful promenade bordered with tamarisk from the Port Medici reaches the cliffs Romito contains the most characteristic aspects of the coastal territory. The coastal road overlooking the cliffs of pink stone from where you can reach the sea through the steps carved in the rock. Reached the coves below the scene is rendered very attractive from a sea of trasperenza particularly known for its seabed rich in fauna and vegetation.
Those that were once coastal fortifications such as Castle Mug, Tower of the Castello del Romito Calafuria and today represent the viewpoints overlooking the coast to admire the sunsets spectacular, worthy of being called "the beautiful sunsets p? Italy .
Sights nature of Livorno are also expressed in the intensity of green that dominates everywhere.
The natural areas around the city are characterized by the presence of holm oak, arbutus and myrtle inhabited by the typical fauna of the bush like wild boars, foxes, porcupines and other mammals.
Links to visit Livorno
Livorno and Islands of the Tuscan archipelago