Welcome to holiday in Siena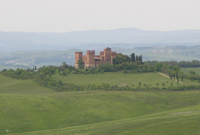 Siena is one of the most beautiful cities of Tuscany and lovingly maintained.
... "Cor magis tibi Sena Pandit" ... Siena opens up a heart that is bigger than this door ...
This is written on one of the main medieval doors giving access to the city and this is the spirit with which the Siena welcome to visitors.
With its narrow streets in sandstone, the red bricks, towers and palaces austere remains intact medieval appearance characterized. The city enchants visitors with its unique architecture and its wealth is in terms of history that art.
For reservations in hotels, Bed and Breakfast, Residence and holidays lastminute recommend:
Tuscan Holiday to organize your holidays in Tuscany
LastminuteTuscany to find a hotel at the last minute in the Tuscany region.
If you want to go to Siena in the green heart of Italy, in the beautiful region of Abruzzo, where to find hospitality, genuine food and culinary events, history and religion, we recommend this agriturismo in Ortona
To organize your holidays in Siena
Holidays in Siena - History, art, culture, hotels, bed and breakfast, museums, exhibitions, festivals, folk festivals etc.