Welcome to Livorno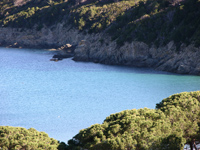 Livorno is a city Medici founded in 1577 on the alluvial plain dell'Arno next to an ancient village. Unfortunately with the Second World War and its bombing has been really nice little old to see. Livorno is known for its prestigious port and is home of the Naval. Livorno is an important trading port and is well connected with the Italian islands.
Livorno is a great modern and ancient city that brings together different facets.
City crossed by canals and fortified walls expresses a cosmopolitan nature thanks to the presence of foreign communities and nations.
Its history of open and tolerant city, a crossroads of peoples did Livorno host an oasis of all persecuted religious and political enriched so of the most disparate customs and traditions Nations foreign origins that can also see in the particular character of its people, warm and welcoming.
To visit Livorno
Piazza Grande, the heart of the city, totally rebuilt after the bombing as the Duomo.
the Royal Fosso which is an ancient moat to defend the city.
Piazza della Repubblica, New Fortress, now public park, Venezia Nuova, which is a characteristic district has in fact homes with foundations water and a dense network of canals crossed by bridges, was once inhabited by sailors and fishermen.
Bottini the dell'Olio that in antiquity were the warehouses for the storage of oil and today Civic Archaeological Museum.
New Fortress which is a complex with two inputs and three bastions surrounded by fortress "Square of Pisa."
Via Grande that is the most important and famous; Cisternino, construction which was used to distribute water in the city.
Piazza del Cisternone, the monument of "Four Mori" which is the most famous monument of the city labronica.
Around Livorno on a hill three hundred meters above sea level can visit the Shrine of Montenero dedicated to Our Lady of Grace, whose origins date back to May 15, 1345. The Sanctuary owns one of the largest collections (about 700) of votive d'Italia and the oldest dates back to the first century.
Many people in these two centuries have left a votive, an object, a framework for thanks to the Blessed Virgin Mary. In addition to the Sanctuary to Montenero we can enjoy the beautiful sight. From Livorno the Sanctuary can be reached by a funicular railway or bus. Other country near Livorno is Quercianella, seaside resort nestled in the green and nell'azzurro sea, destination for Italian tourists and foreigners.
The coastline ranges from Livorno to Piombino, called "Coast of the Etruscans", is rich in historical and tourist resort well-known (Castiglioncello, Rosignano Maritime, Cecina, Bibbona, Campiglia Marittima, Vada, St. Vincent and Castagneto Carducci, Baratti), beaches , Bays and harbours.
Links for Livorno
Holidays in Livorno
- History, art, culture, hotels, bed and breakfast, museums, exhibitions, fairs, festivals etc.
Livorno and Islands of the Tuscan archipelago