Visiting Arezzo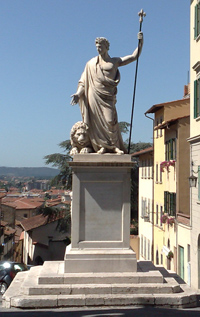 The historical and artistic originality is fully expressed in the quiet old town: the medieval look is more concentrated in large part of the city dominated by Cathedral and the Medici fortress . At the heart of the city Piazza Grande encloses a riot of architectural styles: medieval towers next to the rise Loggiato Vasari, the Renaissance interesting work and the Palace of the Fraternity of Lay, an example of synthesis is Gothic and Renaissance architecture.
The churches, palaces and museums the city offer visitors the opportunity to admire a variety of goods invaluable artistic testimony to the civilization Arezzo and its importance in different historical eras.
The nature and landscape contribute, together, the richness and heritage of a territory and the province Arezzo is undoubtedly an 'area of great importance and interest landscape.
To know the face of the multifaceted area around Arezzo you must immerse yourself in the pristine nature of the over six hundred kilometers of trails, walking paths and bike routes that cross the four areas of the province of Arezzo: Casentino The Valdarno The Valtiberina and Valdichiana .
The millennial forest Casentino, a vast expanse of beech and silver fir, with the 'intensity of its scenario where nature reigns supreme, inspired the "mystical solitude" of those communities of men who chose the quiet of the woods for refuge from the world and engage only in the life of the spirit.
In National Park Casentinesi two jewels worth noting is the Holy Monastery and the Monastery of Camaldoli the first hosts those monks who have focused on the personal recollection while the monastery is characterized by community life.
Interesting alternative is the experience of a stay at the monastery to spend some 'time in a spiritual dimension. The monks are dedicated to offering a host of community life to the guests who share common areas such as the refectory and the guest to enjoy the typical drinks produced by the monks themselves with the fruits of nature, such as teas and the digestive herbs of the woods.
Holiday Aretine with their fields chessboard inspired the screenplay for many films, curious and fun it can be the proposed routes film in search of those places that have done art by many famous films.
Useful links to visit Arezzo
Arezzo and its province