Welcome to holiday in Lucca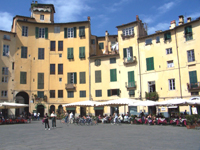 The city of Lucca is another jewel of artistic, historical and cultural heart of Tuscany. Enclosed between the walls sixteenth retains its own artistic heritage of the oldest in Italy.
Strolling along the walls you can admire the lovely views of the city ramparts, narrow streets, churches and elegant buildings, squares and a variety of shops and craft workshops to witness the splendor of the trade they enjoyed history Lucca in particular the development of fabrics and textiles.
In the alleys tourists can enjoy the discovery of the ancient crafts handed down by wise hands that do not yield to globalized trade and maintain over time a tradition of artistic craftsmanship of those materials as the typical Tuscan cermanica, skin, leather, l 'gold l 'silver and wood.
Lucca, a city of art known in any way, is also called "City of hundred churches." It is typical for the sixteenth walls surrounding the old town. In Lucca there are many monuments to see, some of which are beautiful: the Duomo with inside the tomb of Ilaria del Carretto, Palazzo Guinigi with his Tower Trees that the monument is a symbol of the city, Market Square, Palazzo Mansi, the Museum of Villa Giunigi that preserves within it, precious sculptures and works of Lucchese painting.
From Visit the outskirts of Lucca with the famous Ville Lucchesi, built in the period between 1500 and 1700, close to water sources that feed the special and beautiful fountains of its gardens. Lucca is famous for his province with very popular tourist areas like the Versilia and the Garfagnana . There is a curiosity to know which concerns Lucca: here is manufactured the famous Cigar Toscano, known and appreciated throughout the world, the one made by hand from 1800 and now produced in America and Argentina.
Useful links for your holiday in Lucca and in Versilia
Holidays in Lucca -
Art, culture, hotels, bed and breakfast, museums, exhibitions, fairs, festivals etc.